Winnipeg Real Estate Sales & Market Update - October 2022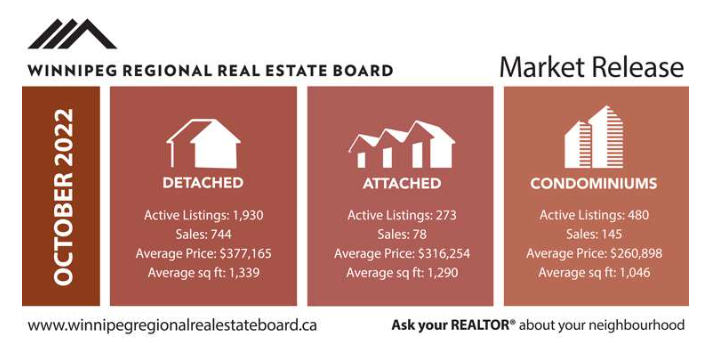 October real estate sales in Winnipeg show a gradual return to pre-Pandemic levels
In October 2022, the average single-family home sales price was $377,000. Less than 1 in 5 sellers received an above-list price. In fact, 76% of sales were sold for less than the listing price.   
"Moving into balanced market territory is a positive development," said Akash Bedi, 2022 president of the Winnipeg Regional Real Estate Board. "This should be particularly beneficial to first-time home buyers who were unable to compete in the multiple offer frenzy and now have time to weigh their options and negotiate a better price."
During the Pandemic, buyers were able to take advantage of low-interest rates to the tune of .25% back in March of this year. That, combined with buyers wanting to change how they lived during the pandemic drove a well-documented market frenzy. With today's Bank of Canada interest rate sitting at a cool 3.75% we have seen sales stall, and prices become more reasonable.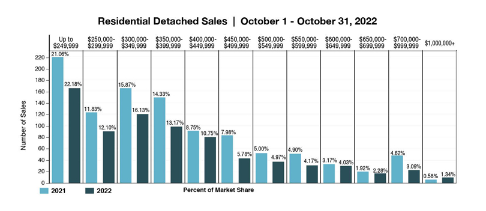 The Synopsis on October's Sales Data from the Winnipeg Real Estate Board
The October 2022 HPI shows Winnipeg's benchmark price for a single-family home is $337,400, only down $2,500 from September.
The single-family home activity was most active under $400,000 with 50% of sales occurring under $350,000 and another 13% from $350,000 to $399,999. The highest sale price was $1,550,000 and the lowest was $19,900.
"I think you would be hard-pressed to find any major city in the country where they have half of their single-family home sales in October 2022 are selling for under $350,000, "said Bedi. "It is worth noting that our market region condominiums are much more affordable with 70% of sales in October 2022 selling under $300,000."
As indicated last month and much the same now, condominium prices have not experienced the big spike in prices single-family did this year nor have they fallen back either. In October, the most active condo price range was $150,000 to $199,999 at 23% of sales while another 18% took place in the next higher price range from $200,000 to $249,999. The highest sale price was $680,000.
A metric on which single-family usually outperform condominiums is what is referred to as continuous days on the market before a property sells on the MLS®. Even in September continuous days on market for single-family homes sales was 26 days when it was 33 days for condominiums. This month condos were quicker to sell with an average of 29 days compared to 31 days for single families.
"I always stress we need to be providing buyers with different housing options for them to consider so to see condominiums turning over faster this month is indication buyers are open to other choices," said Bedi.
There's always much more to share about the real estate market in Winnipeg. Please get in touch with us if you would like to learn more! We would love to help you buy or sell real estate in Winnipeg.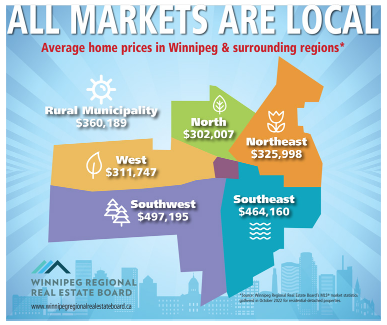 Contact us to learn more!
If you want to learn more about the real estate market trends in Winnipeg please get in touch with us! The team at Kevin Moist and Associates would love to help you buy or sell real estate in Winnipeg! We look forward to working with you!