Winnipeg Real Estate Sales & Market Update - August 2022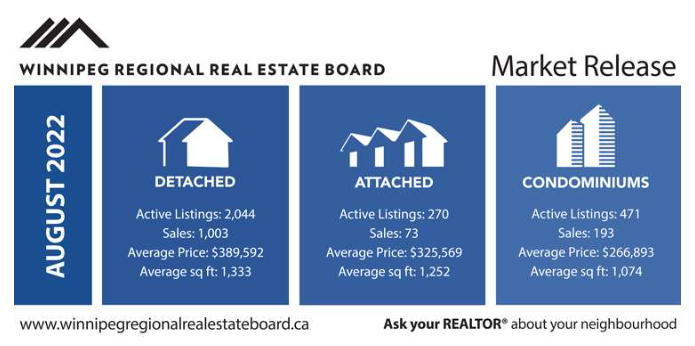 Multiple Offers Over Ask are Scarce in August's RE Market.
Sales activity from last month dropped by 15% in Winnipeg according to the latest numbers released from the Winnipeg Real Estate Board. 
On the other hand inventory of Winnipeg homes for sale is stronger than this time last year. In fact, real estate inventory including single-family homes, condos, townhomes, and property is up 28% from August 2021. 
This time last year, there seemed no end in sight to the hot local real estate market. Now, with interest rates rising into never before seen territory we are seeing sales slow and buyers become more cautious and calculated with their purchases. 
Planning to sell your home in today's market requires experience and a solid plan. Sellers should understand that all the subject-to offers are back and that includes home inspections. This time last year the market was so hot that people were offering more than the asking price to get a leg up over all the multiple offers. In most cases, offers came with very few subjects to the completion of the sale. 
With the recent rise in interest rates combined with a rise in inventory, the market is back in the hands of buyers.   Sellers will want to make sure that their home is evaluated by a professional REALTOR® and priced appropriately. In order to get the most for their home, having it thoroughly cleaned and staged will also go a long way to closing the sale.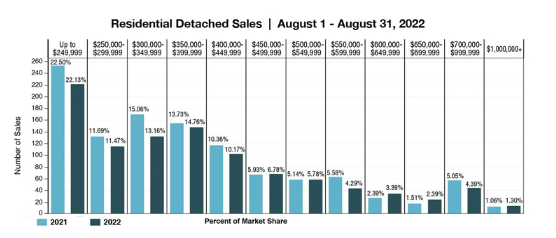 The Synopsis on August's Sales Data from the Winnipeg Real Estate Board
The Winnipeg Regional Real Estate Board market region's single-family home benchmark price in August was $361,500, a decrease of $5,700 from July and $27,100 from its peak month in May. The single-family home benchmark price at the end of 2021 was $347,600.
As for the condominium apartment benchmark price, it reached its highest level this past July at $234,000, and was slightly lower in August at $233,400.
As much as we are seeing a shift in our market, we should not be so quick to discount how well some metrics are still performing. For the 1,003 single-family homes sold in August, they were only on the market for an average of 22 continuous days. It was just 4 weeks for the 193 condominium sales.
"It was to be expected the market would slow down given how accelerated it has been since it took off in the second half of 2020 and carried on through 2021," said Bedi. "Even without the rapid rise in interest rates this year, it was bound to settle down as many buyers advanced their home buying plans in the last two years."
"Markets ebb and flow, as we are seeing now, so you need to contact your REALTOR® to understand how changes will impact your own situation," said Marina R. James, CEO of the Winnipeg Regional Real Estate Board. "Real estate is local and our REALTOR® Members are the experts on the local market region."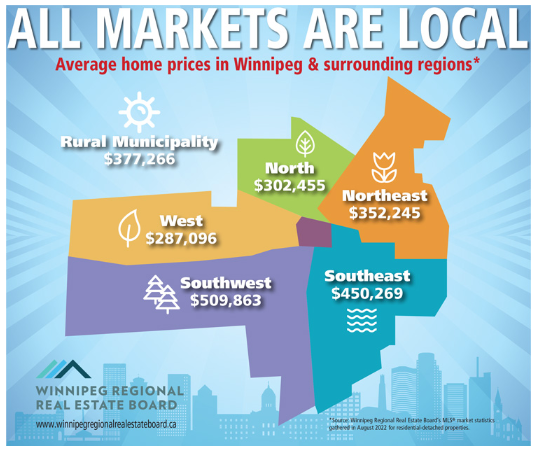 Contact us to learn more!
If you want to learn more about the real estate market trends in Winnipeg please get in touch with us! The team at Kevin Moist and Associates would love to help you buy or sell real estate in Winnipeg! We look forward to working with you!