Winnipeg Real Estate Sales & Market Update - July 2022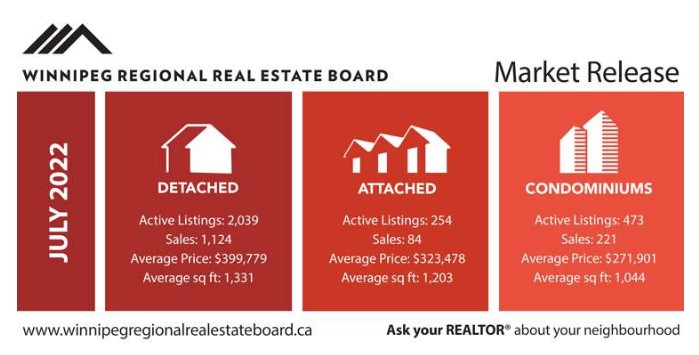 Inventory continues to climb along with interest rates
There are now nearly double the listings available in Winnipeg than what was available in the first quarter of 2022. According to the local real estate board,
Significant improvement in new listings coming onto the market — combined with higher interest rates — resulted in an average single-family home selling price of $400,000, well down from over $454,000 in May. The year-to-date average single-family home selling price is $431,158, up over $50,000 from the 2021 average single-family selling price of $379,844.
"We are seeing once very tight market conditions loosening up in the second half of 2022," said Akash Bedi, 2022 president of the Winnipeg Regional Real Estate Board. "Above list price sales for both single-family homes and condominiums are trending down from what they were earlier in the year. July single-family percentages of above list price versus below list price sales are the reverse of the year-to-date ones with below list price sales this month at 55% when they are 35% for the year."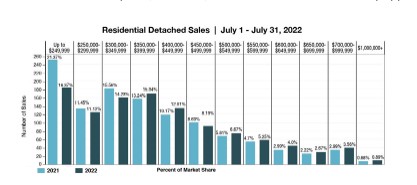 New sales data shows how unreal the summer of 2020 was
July 2022 MLS® sales of 1,542 are down 8% from the same month in 2021 and less than 3% over the 5-year average. When you remove the exceptional two previous years — which were spurred by unique circumstances and favourable finance conditions to buy a home — July 2022 outperforms any other July and ranks as the third best July on record.
"You just have to look back to July 2020 when there were close to 1,900 sales, and up until then, we have never seen this summer month eclipse 1,500 sales," noted Bedi. "It becomes readily apparent how unusual July 2020 was."
One area that is not showing signs of slowing down is the condo market in Winnipeg. We continue to see Winnipeg condos emerge as an option for those looking for affordable homes especially due to a recent rise in interest rates. 
In fact, condo sales almost mirrored last year's data. Of the 221 condominiums sold in July only two less changed hands compared to July 2021. Year-to-date sales of 1,457 are much closer in sales activity to 2021 than other property types with respect to the same time last year.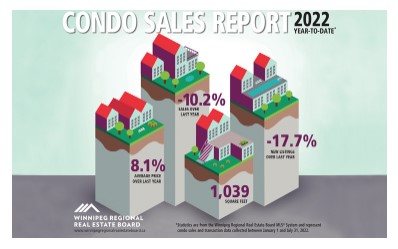 Contact us to learn more!
If you want to learn more about the real estate market trends in Winnipeg please get in touch with us! The team at Kevin Moist and Associates would love to help you buy or sell real estate in Winnipeg! We look forward to working with you!